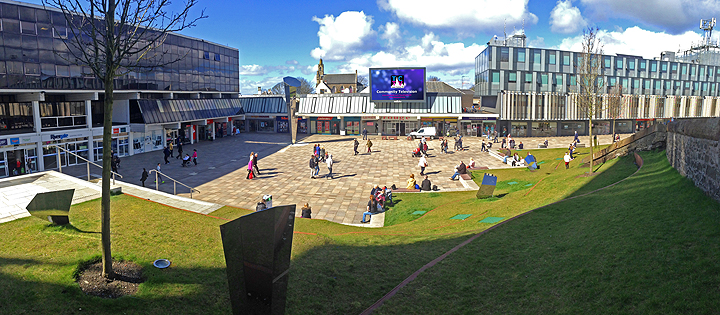 Located in the award-winning Bridgegate area of Irvine town centre, this large outdoor television screen is the ideal platform to show community related media.
Irvine Bay Regeneration Company, with the support of funding from the Scottish Government, have purchased and installed a large (33 square metre) LED public information screen in Irvine Bridgegate as the final part of the recent public realm improvement works. This is the first town centre screen of this type in the country.
The Ayrshire Community Trust has been contracted by Irvine Bay Regeneration Company and North Ayrshire Council to deliver Town Centre TV with the aim of working with the people of Irvine to develop high quality community information. With the help of our volunteers we will be creating a programme of content which promotes local charities and public events throughout North Ayrshire.
For more information visit our website: www.towncentre.tv or follow us on Facebook: www.facebook.com/TownCentreTV