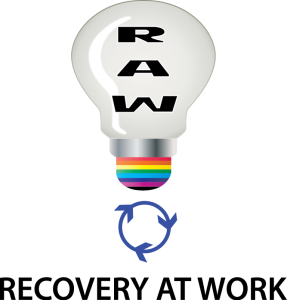 About the Organisation
Recovery at Work is a constituted community group run by people in recovery, serving their communities whilst challenging the negative stigma surrounding addictions, demonstrating people can and do recover and bring added value throughout North Ayrshire.
The range of activity currently taking place involves the delivery of two recovery cafes (Café Solace) in Ardrossan and Irvine; a running group to increase fitness levels and improve mental well-being; the facilitation of SMART peer support groups; and evaluation of service delivery.
Recovery at Work are continually reaching out to encourage more people to join our community through highlighting recovery opportunities that enhance wellbeing.
As part of the ever increasing portfolio of Recovery at Work activities, the group are delighted to present Funky Films. This is a collaboration with the ADP, working on a project to capture recovery stories. This project offered the opportunity to people, who have experienced drug and/or alcohol issues, to tell their stories through short films and show that recovery is possible!
Funky Films have completed a short film making course delivered by an up and coming young film maker and have engaged in sessions including setting up and working filming equipment, developing a storyline, shooting on location and an introduction to editing.
The films highlight the participant own personal journeys, from experiencing addiction to engaging within recovery activities, and to celebrating their recovery and all that that has brought to their lives!
We wish to acknowledge and appreciate the honesty and bravery by a number of individuals in sharing their deeply personal journeys in the hope this will educate and support others.

List of Volunteering Opportunities and Description
Volunteering opportunities that we have at the moment are:
Cafe Solace:
These include Food Preparation where it would be expected of volunteers to contribute to the preparation for the evenings Community Cafe. This includes serving / waiting including serving food in a courteous manner and setting up and clearing tables. Also required are all aspects of tidying up and cleaning of the Kitchen.
Funky Films:
Funky Films also have opportunities for anyone with skills in different aspects of photography or filming that would like to work with a group of Volunteers to create and showcase Films.

Contact Details
Steph McCutcheon
27-29 Vernon Street
Saltcoats
North Ayrshire
KA21 5HE
Tel: 07393 314902
Email: S.McCutcheon@theayrshirecommunitytrust.co.uk
Note: Please quote 'TACT Get Me Connected' when contacting the organisation.