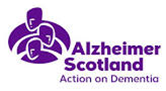 About the Organisation
Alzheimer Scotland support people with dementia in Ayrshire, through support workers, day care services and our network of Resource Centres. We run a variety of different community groups both in the centres and out in the community to increase awareness of what we offer and provide support to people with dementia and their carers. Our groups are all open to the whole community so we endeavour to provide a broad level of entertainment.
List of Volunteering Opportunities and Description
We need volunteers to help with all facets of these – that could be performing, singing, handing out music, or making tea. We look for individuals that have an empathy for those with dementia, can be left with tasks to complete and will add to the experience of all that attend. We can create new groups if volunteers have a particular creative passion or desire to lead a group. No specific care experience required, but good people skills essential – our groups need individuals with an understanding of dementia and awareness that it is more important to be interested rather than interesting.
Contact Details
Jim Baird, Alzheimer Scotland, 8-12 College Wynd, Kilmarnock KA1 1HN
Tel: 07584 327875
Email: jbaird@alzscot.org
Note: Please quote 'TACT Get Connected' when contacting the organisation.